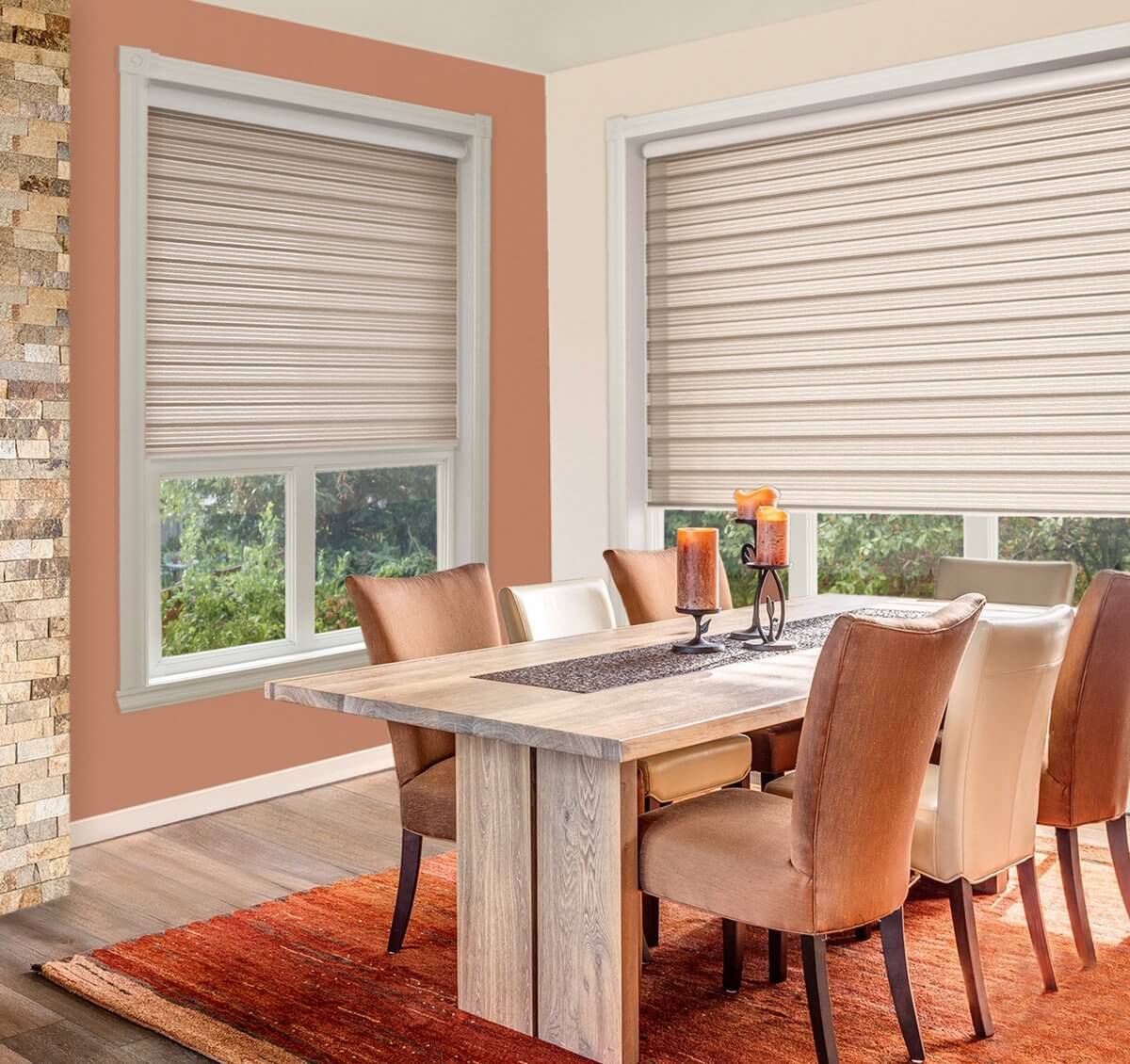 Vision Blinds
Vision blinds, also known as day & night or duorol, are a clever double roller system which allows you to create a light space. All with less intrusion on privacy. These blinds are designed to work best when kept partly down the window, and adjusted only slightly to let light in and out. A standard roller blind is designed to be rolled up and down the window fully, if you prefer this operation.
We offer a range of fresh fabric designs, and a stylish headrail system that brings the vision blind bang up to date for the modern home. There is a choice of finishes available for the headrail including satin silver, chrome, graphite, bronze and black. This allows you to tailor each blind to the unique interior of each room in your home.
The vision blinds system looks simply stunning from both the inside and outside of your home. It really is a luxury product and gives some dimension to your windows for that final finishing touch. With full control, you can let light into your rooms whilst maintaining privacy and admiring the view. For a softened light, a beautiful fabric and a clever design, look no further than vision blinds.
The horizontal appearance of the fabric panels gives a similar effect to our Venetian blinds. Paired with the softer finish of a roller blind.
To book a free home visit to browse the range, click here.
Child Safety
Our most popular option for controls is the wand system, this option makes your blinds safe by design. Furthermore, there is no need for a safety bracket as the wand eliminates the need for cords or chain to control the blind. To find out more about the different options you have to make sure your blinds are child safe,
INSTALLATION METHODS FULLY COMPLY TO: BS EN 13120.
We have been supportive of making corded blinds child safe for a number of years, helping to reduce the devastating number of tragic child deaths that occur from accidental strangulation from blind cords.
Therefore in March 2014, child safety legislation was passed that put a legal responsibility on blind manufacturers, installers and retailers who manufacture & install blinds to do so in compliance with the safety standard.
Click Here for More Information
Make it Safe...
Watch our Child Safety Blinds video